Now that all mankind has a digital camera we're all taking more pictures than we were a decade ago, no?
Sometimes displaying them becomes problematic. Some prints are enlarge&frame-worthy. But some are just cute enough to pin up for a short while. And what to do with all those 4x6 proofs that came with your recent photo shoot?
Frames are expensive (and who really frames 4x6 prints?) and changing their contents is tedious, here are five low-cost alternatives for creative photo display:
1. A clothesline of snapshots
I made this with a length of twine and 5 mini clothes pins - all of which I pulled from my craft closet one afternoon. I love the ease of changing out the pictures and how it's kind of organic in its simplicity.
2. Upholstered photo board. Cover a cork cork board or foam project board and hang it on your wall. Attach photos with push pins. I chose a neutral white on white stripe as my background fabric - you could be much more whimsical.
3. Do you remember
Jordan's photo wall
? We loved the idea.
She just gathered photographs that were unified by color or tone - some of kids, some of objects or landscapes - printed them on regular photo paper, then trimmed one side to even out the borders. Then she taped (!) them to the wall.
4. Kate's photo mobile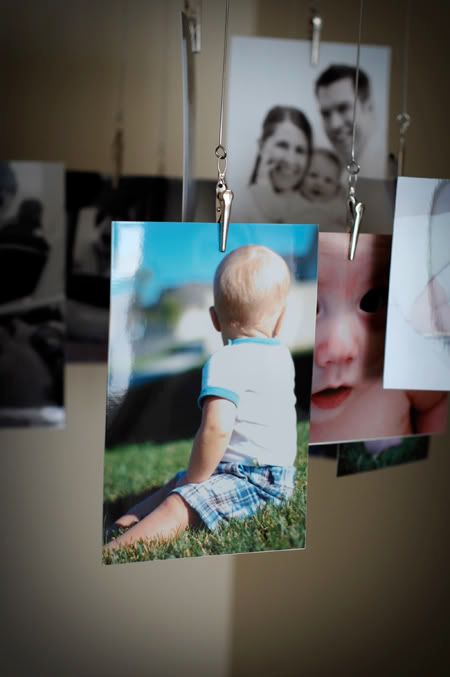 She got hers at a local boutique, but you can find something similar
HERE
.
5. And Kate's Photo collage wall (a la
NieNie
)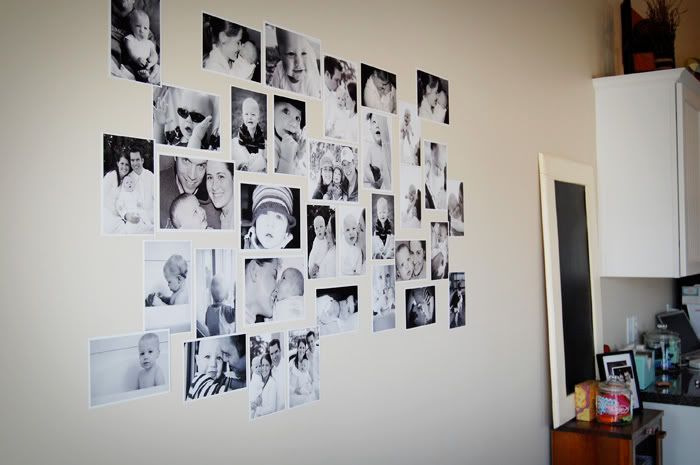 Same concept as Jordan's, really - just not so linear.
So many things to do with so many photos!
xo,
Em
*Don't forget to scroll down and enter the Lettergirl Giveaway -
winner announced tomorrow morning...